Here is our Music-Inspired Christmas Gift Guide for 2020!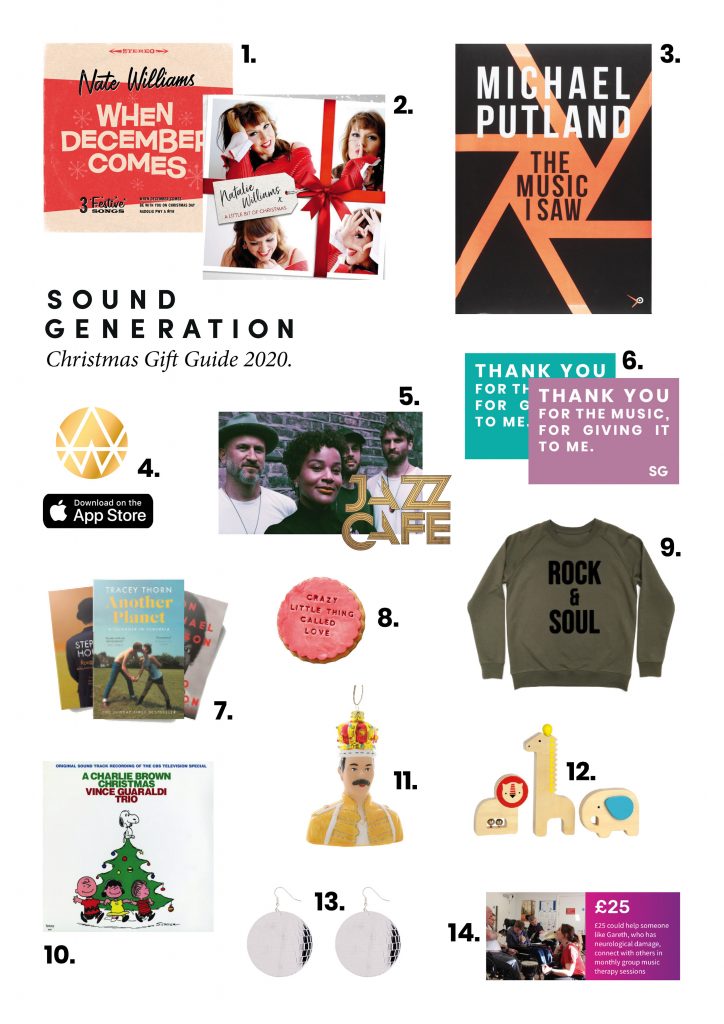 1, 2 & 10. Christmas doesn't officially start in our household until the Christmas music goes on. Here are three fantastic albums/EP's that are guaranteed to have you feeling festive. One of the UK's most acclaimed soul/jazz vocalists, Natalie Williams (Ronnie Scott's All Stars, Jacob Collier, Jessie J, Emeli Sande), released 'A Little Bit of Christmas' a couple of years ago, and it's now a firm favourite of ours. For vinyl enthusiasts there's 'Charlie Brown's Christmas' from Sleeve Notes Records, and Jamiroquai band member and multi-instrumentalist, Nate Williams (no relation to Natalie), releases his debut Christmas EP on December 4th which will no doubt be a festive delight.
3. World-renowned photographer, Michael Putland, captured everyone from David Bowie to ABBA over his 50 year career. Sadly Michael passed away last year, not long after publishing 'The Music I Saw' – a book featuring some of his most iconic images. Some of his wonderful prints can also be purchased via his website.
4. Did you know you can gift apps? Just click the 'Gift' option when you go to buy the app on the App Store and the app will be delivered to the recipient of your choice. Annabel Williams, AKA 'The Vocal Coach' (Britains Got Talent, The X Factor, Pussycat Dolls, Katy Perry) has produced this fantastic vocal app – perfect for aspiring, or professional vocalists.
5. We can't wait to get out and see live music again, and this is one show in particular we'd highly recommend you put to the top of your gig list. Native Dancer released their debut album last month, and it's one of the most beautiful albums we've heard this year. With only a few tickets left though – you'll have to grab your tickets quick!
6. We've recently launched online tuition as gifts. Book a lesson with one of the UK's best musicians including Nate Williams (see above) who teaches songwriting, or get a singing lesson with X Factor coach, Ulrika Bjerelind. Or if you can't decide, we also offer gift vouchers from £10 – £50.
7. Daunt Books sell this fantastic collection of music books which includes, Rough Ideas by Stephen Hough, Tracey Thorn's Another Planet, and On Michael Jackson by Margo Jefferson.
8. Lady Bakewell Park make the most delicious biscuits on earth. Fact. Plus, their biscuits have the best messaging, from song lyrics like "you're my wonderwall" to sweary biscuits like 'Fuck Off 2020' (my personal fav).
9. Disko Kids make music-inspired clothing, jewellery and prints for kids and adults, and we have been huge fans ever since their roller skates sweater became an instagram hit. I've kitted out the kids in their "We Are Family" T-shirts, and I've got my eye on this 'Rock and Soul' sweater which comes in über cool Khaki. Helen, who runs Disko Kids, is super lovely, and they also support charities including 'Winston's Wish' and the 'Alzheimers Society' – another excellent reason to buy from them!
11. Freddie Mercury on your Christmas Tree. An essential purchase, no? If you're an interiors enthusiast like me, then make sure you check out WA Green – their products are fab.
12. These gorgeous wooden musical instruments make perfect gifts for the mini-music makers in your life.
13. Disco ball earrings + Disko Kids sweater – surely a winning combination? And these are currently reduced from £35 to £30 so go grab a pair pronto!
14. We've been supporting Nordoff Robbins for two years now, and absolutely love what they do. They are the UK's leading music therapy charity, reaching just under 12,000 vulnerable people in 2019. This year has certainly not been easy for charities, so supporting them has never been more urgent. Donations can start from as little as £5, and every penny really does help.