Next up in our Music Matters series is Jamiroquai band member, Nate Williams. Nate is an insanely talented singer, songwriter, producer and multi-instrumentalist!
A self confessed music obsessive, Nate grew up in a musical household, learning piano, bass and drums, before honing his skills as a singer, songwriter and producer.
As well as working with Jamiroquai, he's also worked with artists including Vula, Joss Stone and Katy B, and he has released several original EP's/albums, including 'Halfway Home' and 'In Another Life'.
Given his work load, we were thrilled Nate found a minute to talk to us about his musical background and inspirations. Read on to find out more!
What music was playing in your early years? Mostly American Soul music. Lots of Stevie Wonder, Quincy Jones, Michael Jackson etc. 
What were you listening to during your teenage years? I carried on listening to Stevie etc. But also, I was probably the only teenage boy in north Wales who had posters of session musicians and fusion players on his walls. Haha! I got quite into Jaco Pastorius and Weather Report, along with plenty of Dave Weckl, Vinnie Colaiuta and Steve Gadd. I grew up playing piano, drums and bass, so was a big mix of stuff really. As I get older, I'm more and more into songwriting and the feeling created by music, but as a teenager, I really got into the technical aspect of playing. I guess the technique can inform the feeling once you know that that's actually the point.
What do you enjoy listening to now? Mostly podcasts, to be honest. I spend so much time working on and writing music etc, I often feel like I need to rest my ears. If I'm in the mood to listen, I'll probably go for something like Bill Evans or Nat King Cole. 
What made you get into music? I'm from a fairly big musical family, so I never stood a chance… I started playing drums for my mum's choir when I was in primary school. Properly started doing gigs for money at about 13. It's basically always been the thing I've done.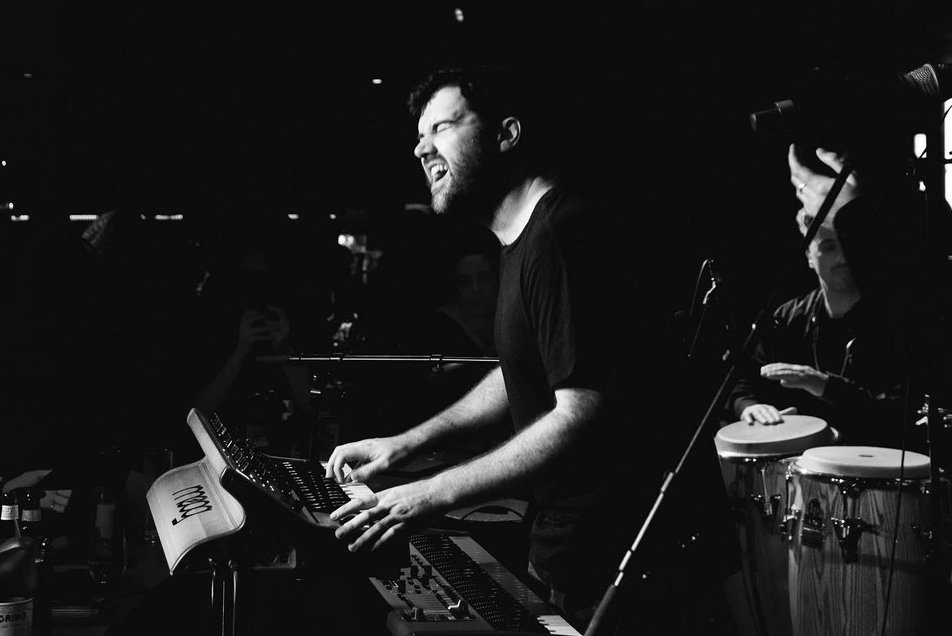 How does music typically feature in your day? I'm at the studio every day pretty much. I'm either writing for myself or someone else, or practicing. It's safe to say I'm pretty obsessed.
What was the last thing you listened to? A new song I'm working on with an artist called Mared. Hopefully going to be released later this year. But if you mean music that's already out there… I listened to Frank Sinatra 'In The Wee Small Hours'.
Is there an artist we might not know of but should listen to? I remember listening to Emily King years ago and thinking people should check her out, but she's kind of well known now I guess. I'll stick with it though, in case it's new to someone.
What album/song reminds you of falling in love? 'Where Were You When I Needed You' by Stevie Wonder seems to evoke feelings from the past. The song isn't a love song, but I guess I was listening to it a lot at the time!
Do you ever use music to change your mood? Honestly, I can't really elaborate, but if I listen to 'Sweet Lorraine' by Nat King Cole, I immediately want to smile!
What album/s have had the greatest impact on you, and why? I don't know if I can say exactly why, but if I really sit and analyse the music, the answer is usually based on harmony, melody, rhythm or production. There's usually something in one (or more) of those that really sticks out. A few albums that have had an impact on me as a songwriter would be:
Back On The Block – Quincy Jones
Bossa Nova Hotel – Michael Sembello
In Search Of – NERD
The Nightfly – Donald Fagen
Gumbo – PJ Morton
Songs In The key Of Life – Stevie Wonder
How often do you practice? Every day. I feel like that's what you should be doing if it's your job. I don't understand why people don't want to play and practice their instruments all the time. It barely feels like work!
Describe your creative writing process. I wish I had some profound thing to say here, but it all usually starts from one of the places mentioned in a previous question. I tend to get a melodic/harmonic/rhythmic/sonic idea, then just see where my ear takes me. I'm a massive theory nerd, so it's nice to know that I can change the harmony etc on a whim if I decide my initial gut feeling isn't doing it for me. I tend to record everything in as midi and get a general overview of the song done, then start from the bottom up with proper instruments etc (if it's needed). As a multi-instrumentalist, I'm pretty self contained, and have all the instruments ready to go, so I can just get the ideas and record them pretty immediately.
What's the best thing about being an artist? I get to be creative all the time. I'm also not signed to anyone, so I can genuinely release whatever music I like. That's a lovely kind of freedom.
What's the most difficult thing about being an artist? Fighting to be heard in and amongst everyone else. There are roughly 40,000 songs uploaded to Spotify EVERY DAY, so yeah… that's tricky. It's hard not to look at how other people are doing with play counts and social media followers, but I've gotten pretty good at just focussing on making music I love and releasing it in to the world. I'll tell people it's out there, then just leave it. No stress!
What has a greater impact on you; lyrics or melody? Melody. Probably because most of my life has been spent as a non-singer. I never really cared about lyrics growing up. I now realise how important the are, but without a beautiful melody, I'm often not as interested.
Kitchen discos? If yes, what's on your playlist? My partner Bex has a great playlist with some of her favourites on there. Some Janelle Monae, Aretha, Donny Hathaway, Fleetwood Mac. Lots of great stuff!
Why does music matter to you? Other than various humans I love, I'd say music/creativity is the most important thing in the world to me. Basically the first thing I think about when I wake up, I've never wanted to do anything else and as long as I feel like this, I'll keep doing it!
Anything you would like us to share with our readers? I'm @nategroove on Instagram. I just posted about my new Logic/Mixing course. Check it for details! New music coming from me later this year. I'm also co-writing and producing a new EP from the amazing Mared. Keep an eye on social media for details.
Click HERE to BUY Nate's music.
We've put together a playlist based on some of Nate's influences and inspirations, you can hear it HERE.
To book an online songwriting session with Nate, click HERE.
For every 'Music Matters' feature we publish we will be donating £20 to music therapy charity, Nordoff Robbins, who we've been supporting since 2018.
To read more of our Music Matters interviews, click HERE.