Next up in our Music Matters series is singer and songwriter, Joell Fender.
Joell is one of the UK's most in demand vocalists, having worked with with artists including, Years and Years, Sigala, Bastille, Disciples, Demi Lovato and Jessie Ware, and performed at the MTV EMA Awards, Glastonbury, Capital FM's Jingle Bell Ball, the 02 Arena and on Later with Jools Holland and The Graham Norton Show.
One of the things we love most about Joell, is his commitment to every performance – his energy really is contagious (he throws some seriously killer moves, that would have even the most reluctant dancer wanting to join him on stage!) And his vocals on Bastille's live performance with the Baltic Sea Philharmonic orchestra, are utterly stunning (watch it HERE.)
A rising star, we were thrilled Joell was able to be a part of our Music Matters series. We're pretty sure his diary is going to fill up fast once gigs are up and running again!
What music was playing in your early years? There was a range of music always blaring out at home, loads of reggae, soul, R&B, lovers rock, my parents played it all.
What were you listening to during your teenage years? Boyz II Men, Usher, Beyoncé, Amy Winehouse, Robert Glasper, Jill Scott and a lot of soundtracks of Musicals.
What do you enjoy listening to now? It depends on my mood but recently I've been listening to A LOT of 70's soul/funk and disco…honestly can't get enough of it.
What made you get into music? It was very natural for me. I always enjoyed singing and performing and would be obsessed with harmonising along to ANYTHING that came on the radio haha! In terms of doing it as a career…I was noticing more and more the joy it would bring me to sing, in comparison to my office job at the time, and from that I pretty much decided it's something I wanted to do full time.
How does music typically feature in your day? When I'm showering/getting ready for the day…music is present. When I'm going to the shop to pick up things for the house…music is present! When I'm cleaning the house or cooking music is definitely present. Lol! Safe to say music is featuring in everything I do…I'm usually lost in my own world creating visuals in my mind to whatever I'm listening to!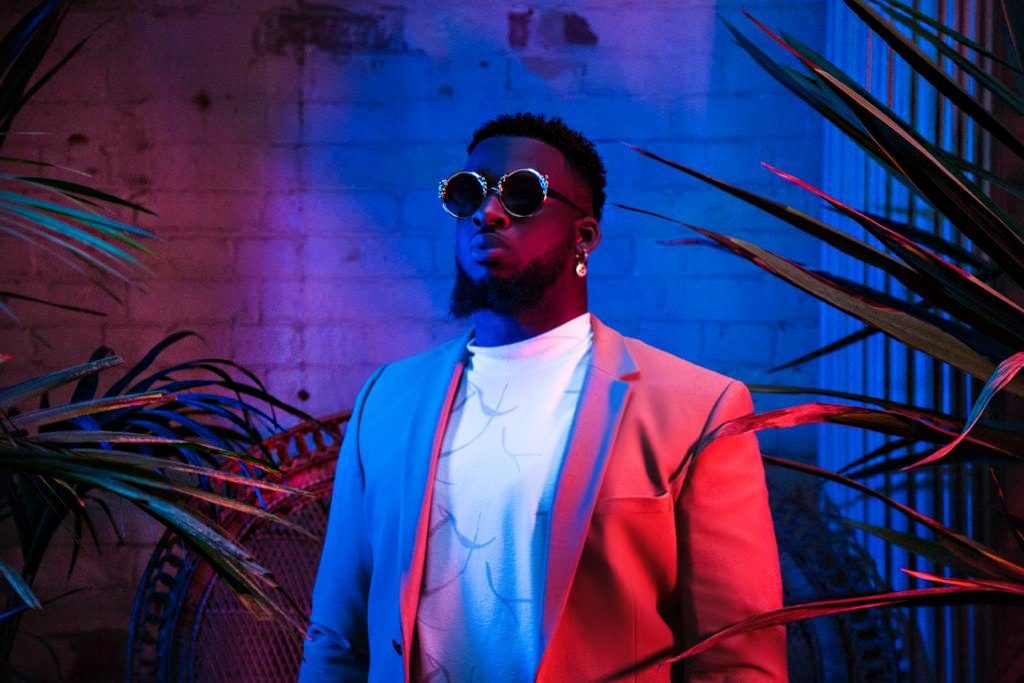 What was the last thing you listened to? 'I'll Be Your Radio' by Jarrod Lawson Feat. Moonchild.
Is there an artist we might not know of but should listen to? Yasmin Green! My bestieeee. Honestly one of the most gifted singer/songwriters I know. Her EP 'After All These Years' is truly stunning.
What was the most memorable gig/festival you went to, and why was it so memorable? I performed at PukklePop festival one year and managed to catch Solange's set. Was blown away. Her performance and conviction, the set design, the styling and choreography was just ELITE. I remember leaving and thinking that I want my shows to look like that.
What album/song reminds you of falling in love? 'Always and Forever'. Originally by Heatwave, but the Luther Vandross version is EVERYTHING.
Do you ever use music to change your mood? I wouldn't say I use music to change my mood however, I definitely tend to play music in accordance with what I'm feeling. If I'm a little down, I'll allow myself to be in that space for a little while and play something sombre/slow paced. If I'm pissed off, I'll ABSOLUTELY be playing something more aggressive. I think we should all allow ourselves to feel what we're feeling and I think music has a great way of enhancing these feelings.
Do you play an instrument, and if so what? And how often do you play/practice? I've been saying for the last 5 years I'm going to learn guitar…and it's just not happened lol. It will though! I only play chords on the keys when I'm writing.
Describe your creative writing process. I change it up quite a lot actually, usually I have the production already then get in the booth and record myself singing absolute gibberish then see what melodies/themes stick out. Sometimes it could be a jam session with other musicians. I often also write down my thoughts/feelings then form the lyrics from this. I just like to follow where the creative flow takes me.
What's the best thing about being an artist? No two days are the same! Me being an artist is a way of life, my art runs parallel to my personal life so it's ever changing and growing. I love being able to express myself however I please. Art is all around us…everywhere! So to know I can contribute to that is pretty awesome.
What's the most difficult thing about being an artist? Allowing myself to be vulnerable isn't always easy, Self doubt, being a perfectionist, fear of not living up to all my standards, being misunderstood, writers block, being overly critical of my work…I must sound so pessimistic
What has a greater impact on you; lyrics or melody? I'm a melody man.
Kitchen discos? If yes, what's on your playlist? Literally heading to my kitchen in a bit, deffo gonna be playing Bruno Mars & Anderson Pak. Maybe some Sylvester, Thundercat, Donna Summers and Earth, Wind & Fire
Why does music matter to you? God knows what I'd be doing without music haha. I truly think it's my purpose in life to create music, sing, perform and uplift. Honestly though, could you imagine a world without music? Or for instance your favourite film without any music at all? It's unimaginable right? Music has no language, yet you could fill a stadium of people from different countries all over the world bringing them together as one. That's EXACTLY why music matters.
Anything you would like us to share with our readers? I'm currently working on my EP which is deffo gearing in the direction of 70's funk/Disco…I'm soooo excited about it. Until then, you can check out all my previous work on all music streaming platforms which you can access from my website.
Click HERE to visit Joell's website.
Click HERE to watch Joell performing with Jessie Ware on The Graham Norton Show.
We've also put together a playlist based on some of Joell's influences and inspirations, you can hear it HERE.
For every 'Music Matters' feature we publish we will be donating £20 to music therapy charity, Nordoff Robbins, who we've been supporting since 2018.
To read more of our Music Matters interviews, click HERE.