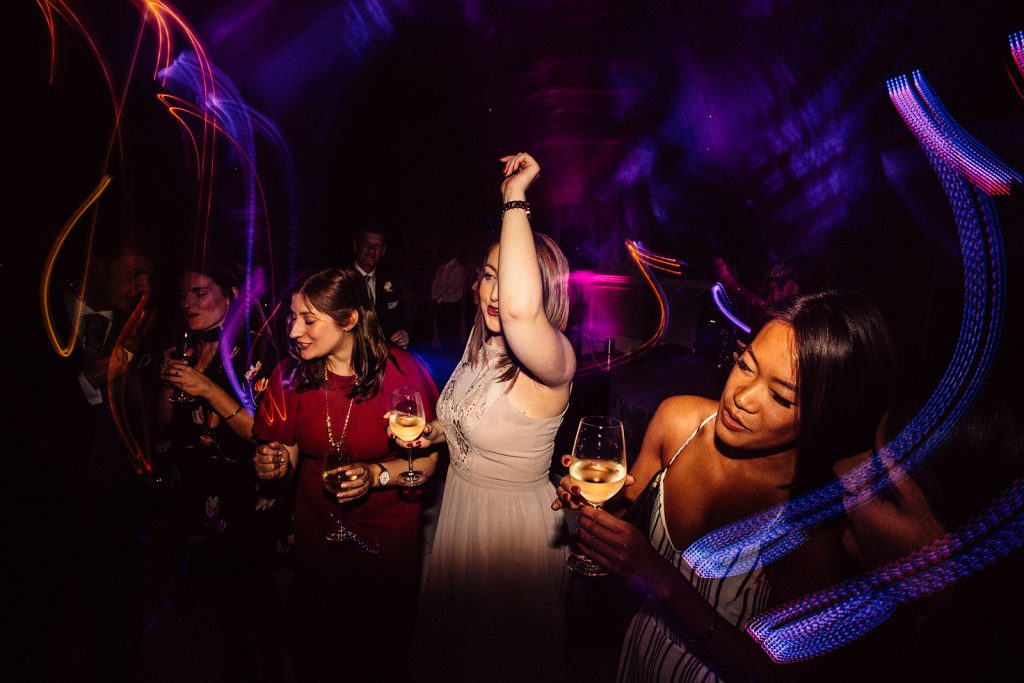 Not sure whether to go for a wedding DJ or a live wedding band? Read on as we consider the pros and cons of each.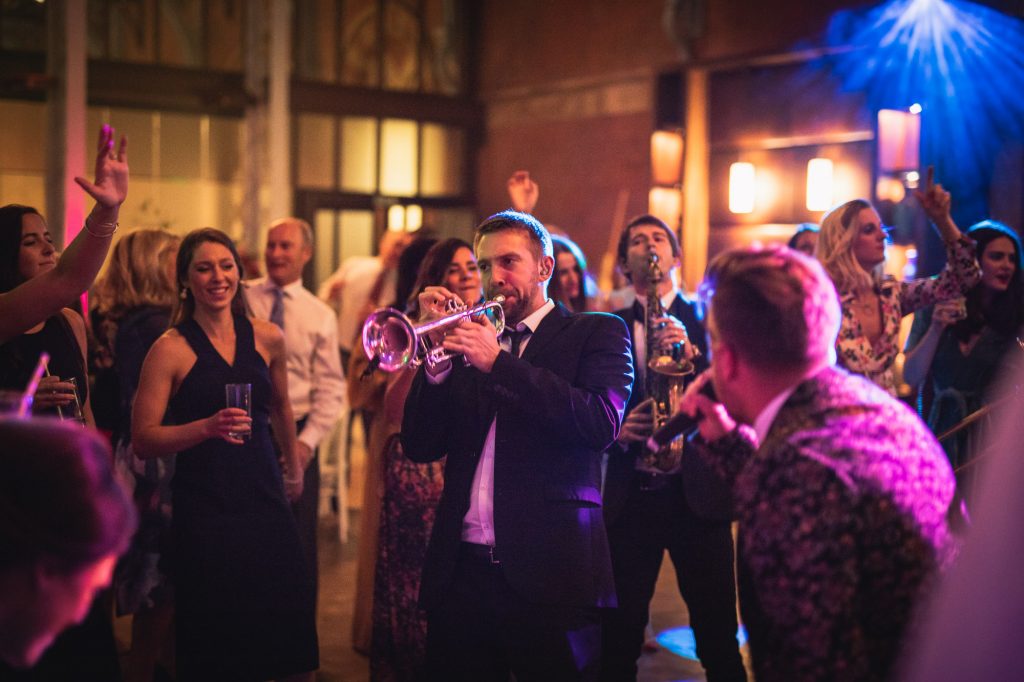 Entertainment Value
If you want to leave a lasting impression with your guests, then a show-stopping live band is a sure way to do so. There's nothing quite like the energy you get from a band, the interaction between the musicians and your guests makes for a really inclusive and immersive experience.
An experienced band also knows how best to order their sets – they'll know when to perform those dance-floor fillers, and when it's a good time to slow things down with a ballad or mid-tempo tune. They're experts at judging the crowd's mood (and how tired their feet are!)
Whilst a DJ should have a good idea of what you want them to play before the wedding, they'll also be able to read the room on the night and get realtime feedback on whether what they're playing is a hit with your guests. Unlike a live band, a DJ is able to make changes to the playlist at a moment's notice. The crowd might go wild for a particular genre or artist, and so the DJ might stick with that for a while, to ensure the dance-floor is packed out. Any decent DJ knows an empty dance-floor is not going to make for a memorable evening, it's their job to get the music just right on the night.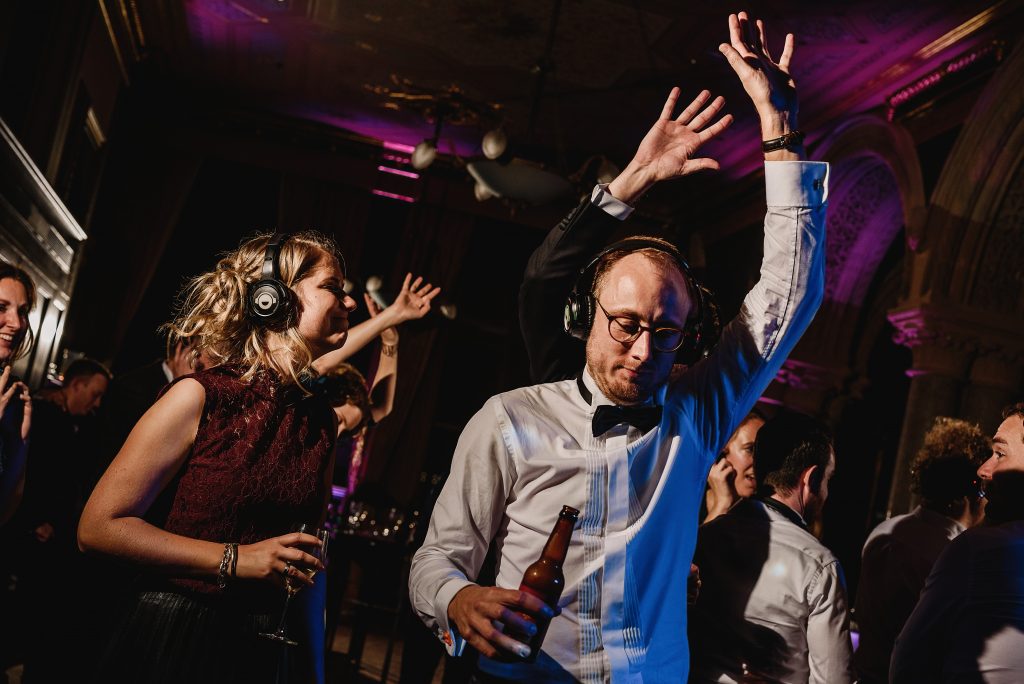 Repertoire & Performance Duration
A great band will usually specialise in a selection of genres (e.g Soul, Motown and Pop), and so could be somewhat restricted on what they can perform. For instance, you're unlikely to find a band that can play a mix of Latin, Rock & Roll and RnB and Hip Hop. Whilst DJ's also specialise, it's usually easier for them to move between genres, so long as they have the music (a good DJ should have an expansive and varied catalogue).
Bands will typically perform 2 x 45min/60min sets, whereas a DJ can play for up to 5hrs, so there's quite a difference in duration for each option. It's worth knowing though, that most bands will play music between their sets so that the mood doesn't go flat.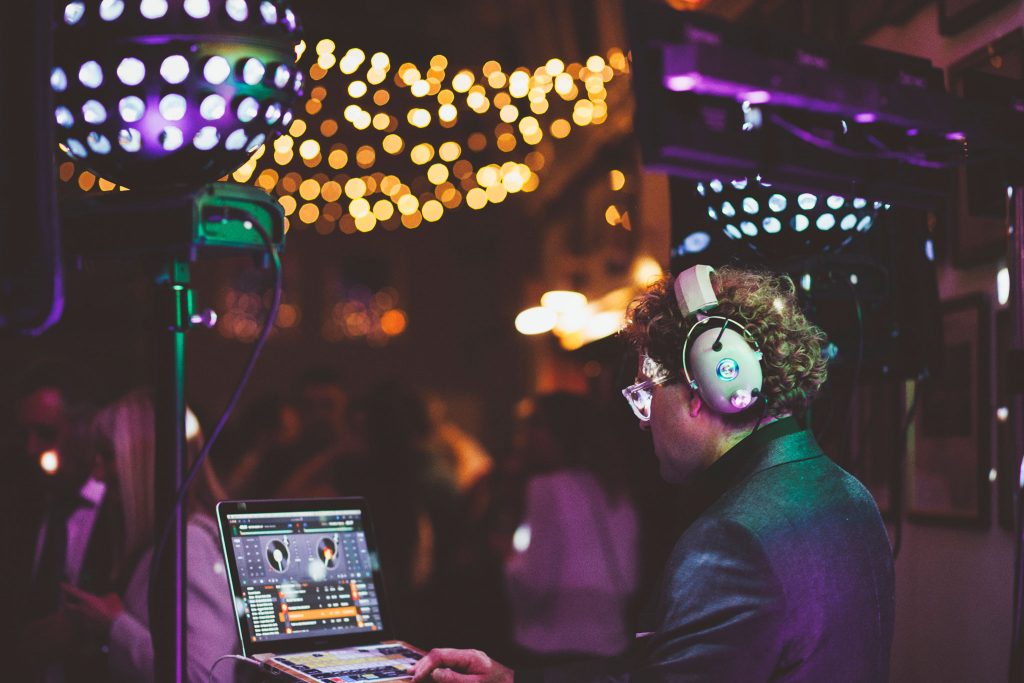 Fees
Fees for a live wedding band vary, depending on several factors including the number of musicians, where your wedding is, how in-demand the band are, and whether there are any additional requirements (e.g. sound or lighting, overnight accommodation etc..) But to give you some idea, our fees typically start from £1500. The fee for a DJ will also vary, but if budget is limited, DJ's usually cost between £500 – £1500, so it may be a more cost-effective option for you. We can also provide lighting and DJ booths if budget allows – for example set ups, just click HERE.
Set-Up
A band will need slightly longer to set-up than a DJ, since they'll probably be providing a fair bit of sound equipment too (and possibly lighting). Typically they'll need between 1-2hrs. They'll also require more performance space than a DJ – exactly how much will depend on the size of the band, but it is something to bear in mind if space is limited at your wedding venue. A DJ will normally take about an hour to set up.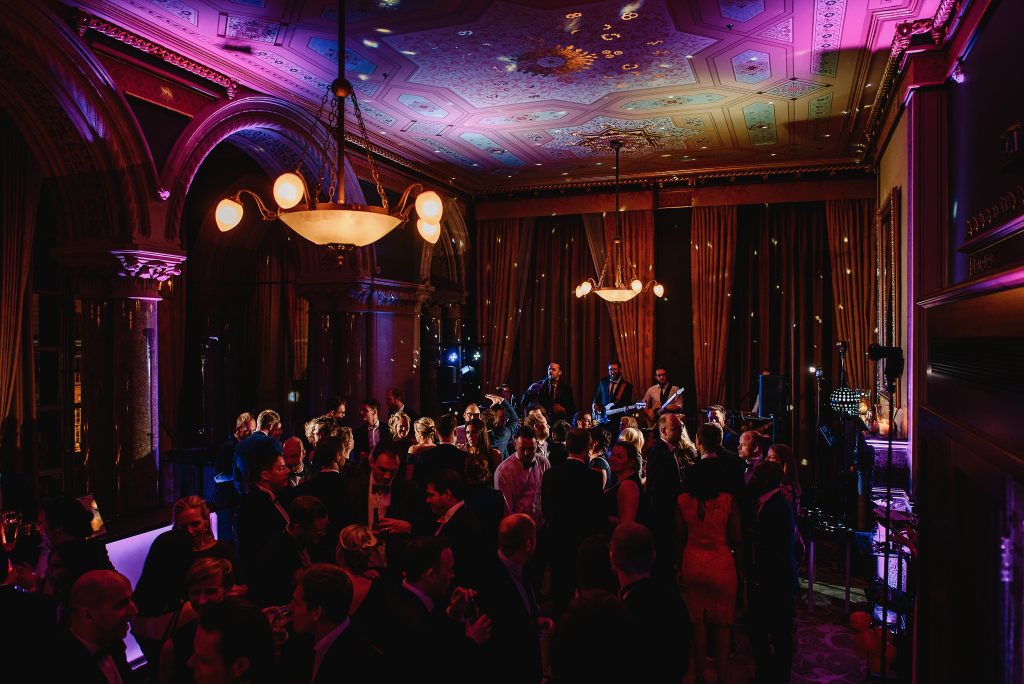 Top 5 Tips:
Bear in mind the age of your guests, and consider what music they'll all enjoy too. If you're too niche, then you may end up with an empty dance-floor – a total mood killer.
Make sure you let the band know in advance what you want for your first dance so that they have plenty of time to learn it. Having a band perform your first dance can make your song even more personal to you, as the band will put their own unique spin on it.
If your wedding venue has a sound limiter, it will be harder to turn a live band down, and you may not be able to have live drums. If noise really is a limitation then you may need to think smaller – e.g. a live trio (with a drummer on percussion instead of a full kit), a DJ, or even a silent disco if you have really noise sensitive neighbours!
It's a good idea to provide your DJ with a list of some of your favourite tracks/artists, and also a list of anything you definitely don't want so that they know what to steer well clear of.
As tempting as it might be to be really prescriptive and outline exactly what you want your DJ to play, it's best to leave some room for the DJ to improvise, so that they can react to the crowd on the night.
So whilst the jury is still out on which one's the better option, hopefully we've given you a clearer idea of what's going to work best for your wedding. Of course, if you have the budget, you could have a wedding DJ and a live band! We certainly wouldn't discourage that!
To hear some of our Wedding DJs click HERE. And click HERE for some of our lighting and booth options.
To watch some of our bands click HERE.
And click HERE to contact us.