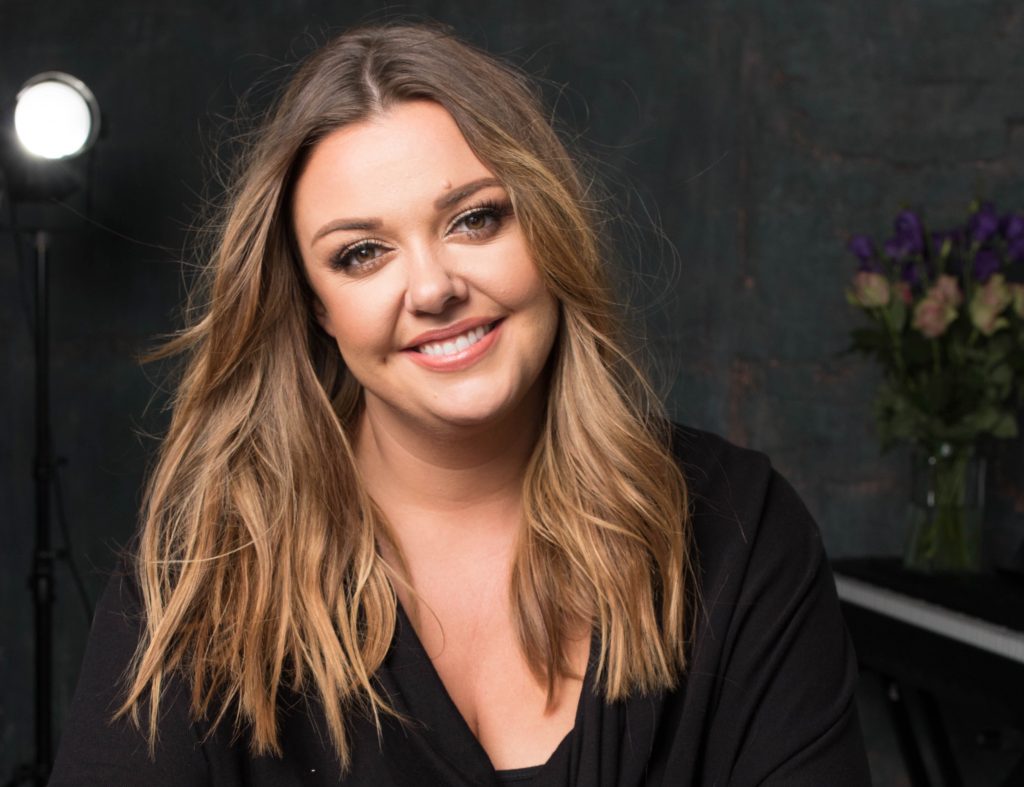 Annabel Williams is a world renowned vocal coach and much sought after vocalist. She has been head vocal coach for X Factor and Britain's Got Talent since 2012, and has coached stars including Ellie Goulding, Amy Winehouse, Katy Perry and Alison Moyet, to name a few. She's also a phenomenally talented vocalist in her own right and has worked as a backing vocalist for the likes of Jennifer Hudson, Nicole Scherzinger and Al Jarreau, as well as headlining sell-out shows of her own at world famous Jazz club, Ronnie Scott's, and Pizza Express Dean Street.
Annabel and I (Sofia) met as students on a vocal course in London. When I first heard Annabel sing, not only was I completely blown away by her knockout voice, but also her musicianship which was off the scale! She possessed a musicality that I'd not witnessed before – she just had 'it'! Music was a language that seemed to come completely naturally to her. Whilst still on the course, Annabel encouraged me to go with her to NYJO (National Youth Jazz Orchestra), I was even lucky enough to have a few lessons with her (for a measly fiver, apparently!) The thing I loved most about Annabel though – ridiculous talent aside – was her warmth, encouragement, and unrelenting desire to see people thrive.
As part of our 'Music Matters' series, I asked Annabel about her musical influences, what was playing in her childhood, about her amazing new vocal app that reached Number 1 in the Apple charts, and so much more! Grab a cuppa and enjoy!
What music was playing in your early years? My parents were pro musicians so Django Reinhardt, all jazz singers and James Taylor.
What were you listening to during your teenage years? A mixture of Stevie Wonder, Ella Fitzgerald and PJ & Duncan! Haha!
What do you enjoy listening to now? I go through phases, but my heroes are Chaka Khan, Freddie Mercury and Prince.
What first got you into music? I think when you're a natural musician, you don't have a choice! It's just 'in you' from an early age. I was always obsessed with singing and harmonies and trying to sound like my influences!
How does music typically feature in your day? Omg, constantly! My whole life is arrangements, coaching, recording and listening to music! I'm incredibly lucky.
What was the last thing you listened to? Falling by Harry Styles and I was doing a Little Mix arrangement for them.
Is there an artist we might not know of but should listen to? Yes! Natalie Williams (no relation), she's one of the most talented people I've ever worked with. She's an artist in her own right and a songwriter. Check her out on Spotify/Apple. She's released loads of stuff.
What was the most memorable gig you went to? Stevie Wonder at the O2 about 15 years ago. I cried from the moment he walked out to the moment he left the stage. It was like a supreme being was in the room. I love him like no other!
What album/song reminds you of falling in love? I recently worked with the fantastic Niall Horan on the release of his wonderful new album 'Heartbreak Weather' and honestly the whole album is like an emotional rollercoaster! He's such a talented boy, it was an honour working with him and his band.
Do you ever use music to change your mood? Yes! When I'm cooking I listen to stuff like 'Mr Big Stuff' and 'Cry To Me' and pretend I'm in a film and dance around the kitchen haha, or when i need to switch off I put on massage music. I do the same for my contestants too on TV shows they're feeling the pressure. Music definitely affects one's mood.
What album/s have had the greatest impact on you, and why? Probably 'Q's Jook Joint – Quincy Jones. One of my heroes. It's got everyone on there!
What's most difficult about being a vocalist? I think performing in extremely difficult circumstances like occasions or when you're ridiculously nervous but still have to deliver. No one knows what you're feeling how you get through it apart from other singers! Breathing always gets me through and having a stern word with myself!
What has a greater impact on you – lyrics or melody? I'm definitely more of a melody kind of person. Also chords.A stunning chord progression can make me burst into tears instantly! Although what connects you to an actual song is ultimately the lyric. I love lyrics that are versatile enough to be adapted to each persons own journey. When they can make everyone feel like they are written specifically for them.
You're one of the most sought after vocal coaches, does coaching give you as much of a buzz as performing? Yes! To be honest when I do one I miss the other. I still perform regularly (covid aside!) as it's so important to me as vocal coach. I think it's so important to practice what you preach. You have to keep doing everything and pushing yourself otherwise it's easy to lose confidence in these things. When I am working with a client or contestant on a perfomance or recording and they nail it, it honestly is the best feeling. I'm like the proudest mummy ever! I'm often in tears back stage when something you've been working so hard on for weeks actually comes together and pays off. I love it.
Anything you want to tell us about? I made a warm up app for singers during lockdown and it was released in June. It went straight to number one music app in the apple charts and i couldn't be happier about how well it's been received! There was nothing like this out there and I wanted to create something that was universal for singers like myself to use before shows gigs etc but also for beginners and aspiring singers of the future. There are 3 levels so something for everyone and each exercise has a really fun fully produced backing track to sing along to! I've included a video of me explaining about each exercise and so the idea is it's like i'm there in the room coaching you it is available on all platforms.
CLICK HERE to download Annabel's amazing Vocal App on Apple.
or CLICK HERE to download it on Google.
CLICK HERE to visit Annabel's website
We've also put together a playlist of some of Annabel's influences and inspirations, you can hear it HERE.
Read all our Music Matters features HERE.
For every 'Music Matters' feature we publish we will be donating £20 to music therapy charity, Nordoff Robbins, who we've been supporting since 2018.